Racing Design covers (indoor)
The tailor made car cover Racing is manufacured specificly for any model of car and racing car.
The basic designs are produced with inspiration to the historic racing colour of the World Champion winning teams, but they can be personalized with your own teamgraphics.
It can be printed also with specific numbers and texts
As the other Covers it protects the car and it gives to the bodywork total protection against scratches and, at the same time, gives a remarkable racing effect. The cover is made of by a special fabric combination, with a pentalobate structure wich is impenetrable from dust and smog, makes shiny the external surface, pliant and soft that in contact with the bodywork. Moreover the cover is equipped with a strong, personalized coloured bag for proper storage and transportation.

Delivery time: +/- 5 weeks.

Colors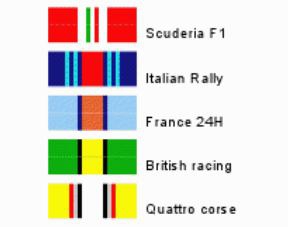 * see also our sales conditions